Sunday worship.
Wear a mask if you feel more comfortable.
Please continue to hand gel on your way into church and as you leave.
We will be attempting to keep some distance between those attending services.
We hope to sing in church. But we also want to be cautious and be aware that Covid has not gone away and we need to love and respect each others safety. Some are more vulnerable and are still to return to church.
Please remember we can still transmit the virus, even if we are double jabbed. Many people this week in our villages have caught Covid and have been unwell.
If the Church of England offers out different guidance, I will let you know.
All these guidelines will be reviewed at the end of August.
Sermon Series in Nehemiah Rebuilding the Church
6 June – Nehemiah 1: 1 – 11 Praying with Humility
13 June – Nehemiah 2: 1 – 20 Servant hearts
20th June – Nehemiah 3: Together let us Build
27th June – Nehemiah 4: 1- 23 Unity
4 July – Nehemiah 5: Connecting to God's Heart
11th JulyInvitation Service – Putting it into Practice
18 July- Nehemiah 6: 1- 19 Our Lord is all Sufficient
25th July- Nehemiah 7: Worship
Break over August
5 September- Nehemiah 8: God's covenant of Love
12 September- Nehemiah 10: Giving thanks and living God's Way
19 September- Nehemiah 12: Prayer and Worship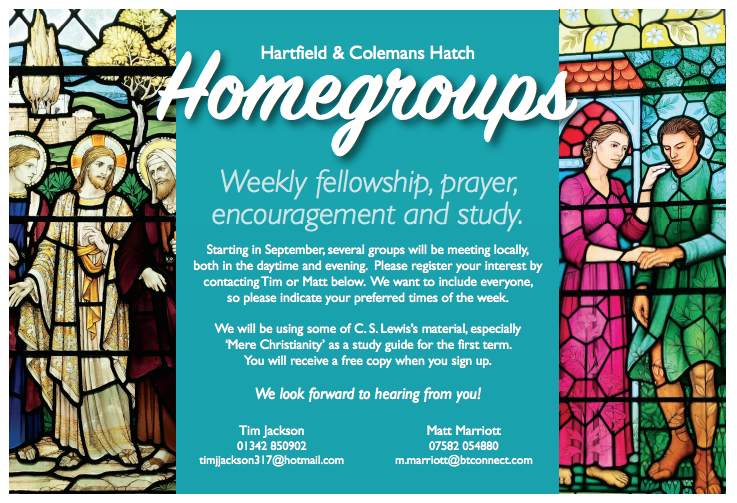 Where:
Holy Trinity Church
Shepherds Hill, Colemans Hatch, Hartfield TN7 4HF
01892 770436
Visitor Information:
Our Welcome Team will be there on the door to give you one of our Service Booklets to guide you through the Service Format. Tea, Coffee and Biscuits are served after each of our services, so please don't rush off after the Service has ended.

"The parish of Coleman's Hatch: Holy Trinity is committed to the safeguarding of children, young people and adults. We follow the House of Bishops guidance and policies and have our own Parish Safeguarding Officer(s), PSOs. The Diocese of Chichester's safeguarding pages contain vital links and information including contacts for the Diocesan Safeguarding Advisor (DSA) who advise our PSOs. If you are concerned that a child or adult has been harmed or may be at risk of harm please contact the DSA. If you have immediate concerns about the safety of someone, please contact the police and your local authority Children or Adults Services."