First published in 1867
Available at 50p in the Hartfield Stores and at both Hartfield Churches
Subscriptions
By cheque for £5.50 payable to Hartfield & Coleman's Hatch Chronicle to this address:
Ian Burns, The Haywaggon Granary, High Street, Hartfield, TN7 4AB
By BACS Account Name: Hartfield & Coleman's Hatch Chronicle Account No: 03145263 Sort Code: 09 01 50
Please confirm BACS payment to: ianburns1939@gmail.com
Advertising in the Chronicle
Our rates are the most competitive in the area. All enquiries re advertising to the Chronicle Business Manager:
Ian Burns Tel: 01892 771014
Editorial
Please send editorial copy to: hartfield.magazine@gmail.com or deliver to 5 Rectory Field Chronicle Managing Editor: Dave Graham 01892 770487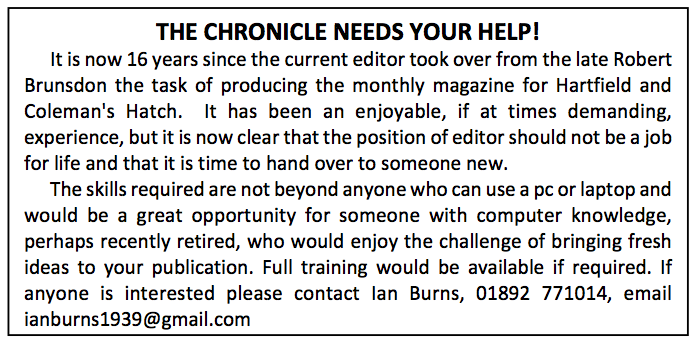 Annual Report for 2018/19
At the end of last year I conducted a survey of some of the other village/parish magazine across our county and found that, without exception, the monthly magazines are now offered free, with the invitation to parishioners to donate to the production cost. The resulting increased circulation has resulted in greater support from local advertisers which in turn defray the greater print costs. With sufficient support the Chronicle could adapt to adopt a similar policy.
2018 was the 14th year since I took over editorship of the Chronicle. During that time the changes have been mainly cosmetic, mainly being the introduction of a colour front cover. It should be noted that our advertising income has been falling despite our rates being well below the other magazines surveyed. On an experimental basis I made the magazine available online but it has not resulted in increased advertising revenue.
EMS Design & Print are now responsible for printing and this has resulted in a higher print quality and the introduction of a box spine which greatly enhances the look and feel of the publication.
The aim of the Chronicle is to be an independent publication whose objective is to promulgate and report all aspects of our village life. As such it should be considered to be independent of both the Hartfield churches and the Parish Council, although it is recognised that St Mary's Church has always acted as proprietor.
Dave Graham – Editor – Hartfield & Colemans Hatch Chronicle