You can view our calendar of events in either Month or List format, whichever you find easier to read.

Penny Evans from Ticehurst and Flimwell Parish
May 24 @ 5:00 pm

-

7:00 pm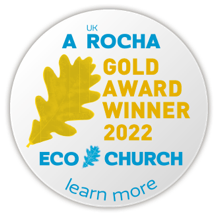 Penny Evans from Ticehurst and Flimwell Parish will be presenting a talk on Eco Matters on Tuesday 24th May. 6pm in Trinity Hall. The talk is about half an hour and this will be followed by questions and answers. All members of our PCC's are invited to come and hear how Ticehurst won their A Rocha, Gold Eco Church award. Penny will encourage us to work towards our bronze award in the coming year.
St Mary's Receives Eco Church Gold Award!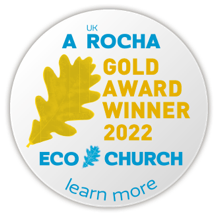 We are delighted to share the news that St Mary's Ticehurst are now Eco Church Gold Award holders! The award recognizes the top level of achievement as part of environmental charity A Rocha UK's Eco Church scheme. We are the first in the Diocese of Chichester to receive it and only the 24th church in England and Wales, and so it's quite an achievement.
The assessors who came to visit our church in January were particularly impressed with the way we embedded creation themes into our worshipping life and our innovative and varied use and maintenance of our church land. That includes summer meadow areas, log-piles and tree planting to encourage more wildlife, the sheep, and also boxes for birds, bats, bugs, hedgehogs and now owls. We also have an ongoing project to install swift boxes in the church belfry. Wouldn't it be fantastic to see swifts flying around the church tower once again?
Ours has been quite a 'swift' eco journey since we first registered in January 2019, prompted by the Climate Emergency and biodiversity loss, and our belief that as Christians we must be more active and visible in caring for God's creation across every area of our shared life together.
We hope through the events we organised for the Great Big Green Week last September, in the lead up to COP26, that we have managed to raise awareness and stimulate more discussion on climate change, a green recovery and lifestyle choices. We are so grateful to all the shops who supported us, along with community groups and our local school, who should all take some credit for our Gold Award.
I would like also to offer thanks to all the members of our planning group who work so hard on our projects: Judith Whiteman, Angela Howitt, Sheila Minet and Sheila Mackenzie, to our wider group of churchyard volunteers, to Malcolm Freeman for help with churchyard surveys, and especially to John Poole for his incredibly dedicated work in looking after the churchyard.
We are planning an official celebration and presentation of our award on Sunday afternoon, 15th May, to which all are invited. More on that next month!
Penny Evans, on behalf of St Mary's Eco Church Group
Related Events
Wireless Telegraphy Act 2006, Programme Making & Special Events Licensing Licence no. 7/0104855,